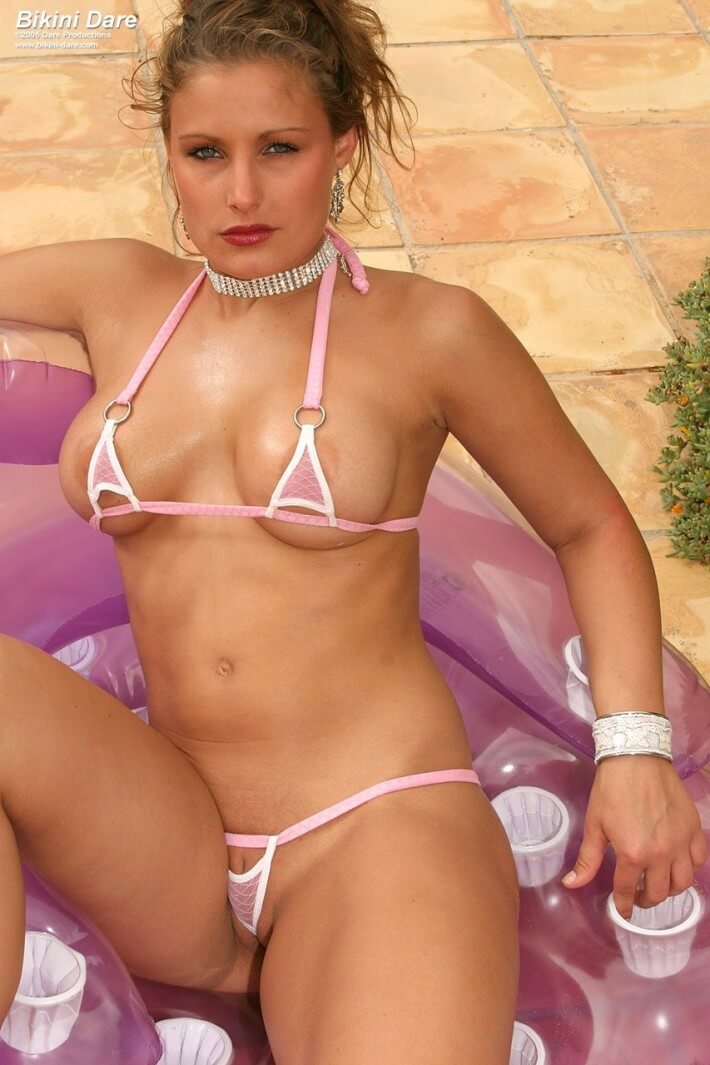 Categories: Babes in Bikini, Non Sex, Posing, SoftCore, MegaPack
Bikini-Dare SiteRip – 195 Clips:

BIKINI DARE – THE ORIGINAL
The goal: Enjoy the bikini beach life one click away!
We present the most daring bikini girls on the web! Our girls are just ordinary exhibitionistic and daring girls who love to show off in public.
If you need some summer vitamins, BIKINI DARE is the perfect place for you!

Download All Files:
All ScreenShot:
Welcome to Bikini Dare on the Move
Here you will find a summary of all our trips to the sunny locations and public beaches we used for our sessions. Please keep in mind that these girls are ordinairy exhibisionistic next-door-types and no professional models. Our models love to show of in public locations and of course we like to share this with you.Bikini Dare in San Antonio & Formentera
More and more explicit shots of four lovely bikini girls; Heaven, Lea, Paris and Susan.Bikini Dare in Morrojable
More and more explicit shots of four lovely bikini girls; Heaven, Lea, Paris and Susan.Bikini Dare in Corralejo
We are proud to present to you three new gorgeous Bikini Dare models Danika, Denny and Tina who joined our hot and exhibitionistic model Roos on this photo shoot.
Bikini Dare in Sant Josep III
It looks like the weather turned our job into a National Geographic report instead of a steaming bikini photo shoot. In between showers we headed for beaches, boating and pools with a very horny Bobbi, army sergeant Jessy, Pamela and Nikita. Bobbi rather goes without clothes to unveil her pierced pussy. …Bikini Dare in St. Eularia!
Lots of new bikinis and new faces at Bikini Dare. Time after time, our loyal suppliers manage to create breathtaking bikinis and suits to cover, or uncover, the last few inches of a girl's body. Chantelle, Cory, Natalie and Ramona did everything they possibly could do to make all the guys crazy…Bikini Dare in Tarida!
Another steaming photo shoot at the Island of Ibiza. Again bad weather conditions but despite that, we managed to visit several new locations which gives us a change of scenery and challenging spots. At a new beach bar, Destiny and Georgina tried to split their bodies just in front of a crowd. Boy oh boy, did they have their day! …Bikini Dare in St-Augusti!
In St-Augusti at the Island of Ibiza, the weather was not very cooperative this trip. Due to lack of action, our girls lost focus on the modeling job and started to develop more attention to each other. Before we know it they were busy with their own party, a Bikini girl orgy. …Bikini Dare Goes Caribian!
Spring 2008 we were looking for some sunny beaches and ended up in the Caribbean, the island Curacao. The white sandy beaches breath the atmosphere of Bikini Dare and the houses in Willemstad were breathtaking colorful. Our girls are getting used wearing most of the time string-only bottoms that we did shock …Bikini Dare in Sant Josep II
Our girls getting hotter and hotter, every time we finished a foreign shoot we are amazed how daring, teasing and gorgeous the girls are. We like to introduce three new girls; Chanel, a beautiful blond poser. Destiny, a young gorgeous girl with a rock hard body and born exhibitionist Roos.Bikini Dare in Sant Josep
Sant Josep is a small village at Ibiza Island. No surprise we visited al the trendy locations on this party island. We had a very exhibitionistic group of girls and even at Ibiza they were sometimes a bit too enthusiastic. But no worry we pictured and taped it all.Bikini Dare in Altea
We stayed in Altea Spain this time but most of the pictures were taken in the surroundings of Althea because of the stone rock beach of Altea. Our girls wore more and more open and string only bikinis and suits and therefore we encountered more difficulties with the local authorities. Luckily we managed to shoot ..Bikini Dare in Ibiza
We can't stay away from the best party island we know of. With 5 hot and almost naked girls we draw a lot of attention. The girls felt so perfectly relaxed that they wear the fully open bikinis among a huge crowd! The public responded very enthousiastic and ..Bikini Dare in Hoek van Holland
Today we went to the beach with Yaela, new model Renate and new model Sheila.
Sheila is a very exhibitionistic girl and we gave her the opportunity to flash at the beach in our skimpy bikinis.
Renate has a gorgeous pretty face and love to spread her legs and ass in public…Bikini Dare in Moravit
This time we stayed in Moravit, a little place at the Costa Blanca in Spain. 2 new models joined us, Roxy and Kyla. Fortunately Dika and Yaela wanted to show their gorgeous bodies again to the audience. All the girls are very exhibitionistic but Yaela is something else…!Bikini Dare visiting the French Riviera
We went to the French Riviera to meet our contributor Dony. We brought Jane and Celina for the event. As you know Jane is very exhibistionistic and we had to persuade her to wear clothes most of the time!! On the other hand, she insist of showing some more then her beautiful butt only. We hope our members are not offended….Bikini Dare in Ibiza
For the third time we went to the party Island Ibiza, oh boy, what a time we had!! You already met Dika in a short photo shoot with roler skates but now you can enjoy her in her own portfolio. We also introduce big breasted Candy …..Bikini Dare in Hoek van Holland
At a hot summer day we went to the beach with 3 hot girls. We met Jaela, Celina and Samantha. Celina is a student and part-time dancer, Jaela is a professional go go dancer and Samantha is a dance instructor. Although it was their first time posing ever, they were born Bikini Dare girls. The beach was pretty crowded and the made the boys crazy with their rock hard bodies.Bikini Dare in Moraira
We went to Moraira, Spain, for our latest photo shoot. We took great pictures and visited some local bars with our bikini girls. We introduce Lady C, a stripper with a rock hard body!! During our first day we met Karin, she was curious were to buy these tiny bikinis….Bikini Dare in Scheveningen
For a long time we had the idea for shooting a group of girls roller skating in tiny bikinis among spectators. Despite not great weather conditions is was a great shoot. Lots of foreign tourists were very surprised and they react spontaneously to our girls. We received a lot of cooperation from a local beach club SUMMER TIME.Bikini Dare in Denia
This time we brought 5 gorgeous girls to Denia in Spain. It looks like the local authories knew we were coming because we were sent away multiple times. These girls cause a lot of traffic jam!!Bikini Dare in Ibiza
The crew of BIKINI DARE went to Ibiza again to shoot some local girls. We met Katie, Gina and Tatiana. Island has almost unlimited opportunities for daring photo sessions and we will visit Ibiza more often in the future.Bikini Dare in Zeeland
BIKINI DARE did a shoot with one of our new models Joy and Jane in Zeeland in the Netherlands. The weather was outstanding and we decided to do something different.Bikini Dare in Rotterdam
In the centre of Rotterdam, near the river, a small beach strip was created to enjoy the summer in the city.
There was even a real beach bar located at the spot. All ingredients for some daring Bikini flashing!!Bikini Dare in Calpe
Taking the pictures was an unbelievable experience, hundreds of spectators moved constantly with our crew from spot to spot. We shoot an awful lot of pictures and we are pretty sure that you wished you were there. We had our girls walking around almost naked with the very open invisible bikinis from Doubletake Microwear.Bikini Dare in Malaga
BIKINI DARE went quick in and out Malaga to catch the last rays of this seasons sunshine. A lot of older spectators need to consult a doctor to check their pacemakers. See more of our two new models – Kealy and Lisa!!.
Bikini Dare in Ibiza
BIKINI DARE went to Ibiza, Spain. Ibiza is the Island of fun and nice people. The girls were really daring in public and even our photographer got almost arrested. We shot lots of the girls solo and of course together. Our members really like to see the girls together!! Lets hope they like to see a little bit more then only bikinis.
Bikini Dare in Benidorm
Bikini Dare went to Benidorm, Spain to enjoy the good conditions and the friendly people. We caused some traffic jam with our sessions, but the girls, Cecilia, Zoe, C.J. and Nicky had a good time..
Bikini Dare in Hoek van Holland
Bikini Dare did some more shooting in Hoek van Holland with two friends, Nicky and Nicole. The locals were surprised and the girls received lots of "help" from some guys .
Bikini Dare in Hoek van Holland
Bikini Dare started their first shoots in Hoek van Holland. Sandy was a bit shy at first but we had a great time.