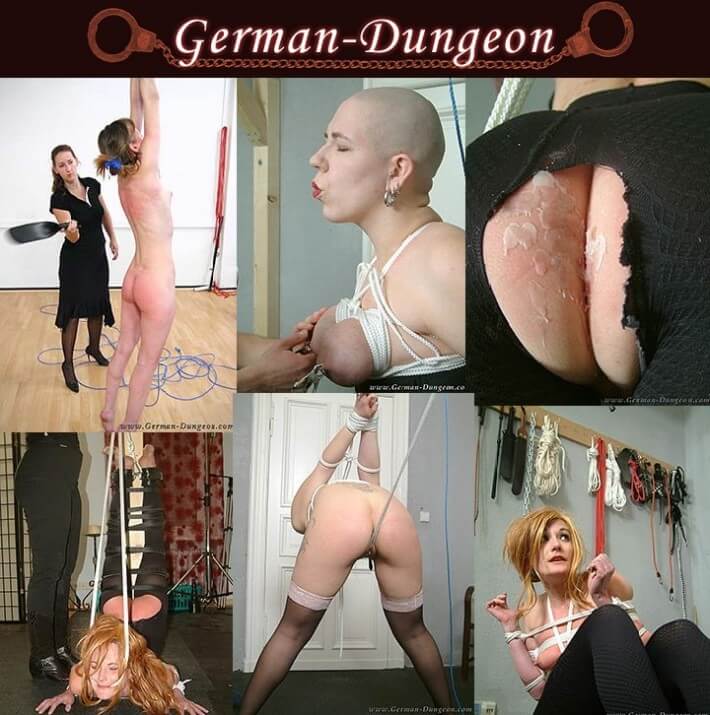 Categories: BDSM, Whipping, Caning, Forced orgasm, Humiliation, Spanking, German, Pack
GermanDungeon SiteRip – 47 Clips:
Sie finden hier Bilder und Videoclips zum Thema BDSM exklusiv aus eigener Produktion.
Gefesselte und geknebelte Frauen
Züchtigung mit Rohrstock und Peitsche
Gefesselt zum Orgasmus gezwungen
Extremes Bondage
Klammern und Wachs
Rollenspiele / Demütigungen
Strenge Brustbondage
Saugglocke
Download All Files:
gd_carolina_050930.rm
gd_cassandra_050923.rm
gd_cassandra_051125.rm
gd_cassandra_carolina_051007.rm
gd_cassandra_carolina_051014.rm
gd_cassandra_ice_060115.rm
gd_cassandra_michelle_051104.rm
gd_cassandra_michelle_051225_1.rm
gd_cassandra_michelle_051225_2.rm
gd_cassandra_michelle_051225_3.rm
gd_cassandra_michelle_051225_4.rm
gd_cassandra_michelle_051225_5.rm
gd_cassandra_michelle_051225_6.rm
gd_eva_051209_1.rm
gd_eva_051212_2.rm
gd_eva_051215_3.rm
gd_eva_ice_060127_1.rm
gd_eva_ice_060127_2.rm
gd_eva_ice_060127_3.rm
gd_ice_cassandra_060312_1.rm
gd_ice_cassandra_060312_2.rm
gd_ice_cassandra_060312_3.rm
gd_ice_michelle_bridget_060325_1.rm
gd_ice_michelle_bridget_060325_2.rm
gd_ice_michelle_bridget_060325_3.rm
gd_ice_steffi_060424_1.rm
gd_ice_steffi_060424_2.rm
gd_julia1_051111.rm
gd_julia2_051118.rm
gd_lorelei_051021.rm
gd_lucia_051202_1.rm
gd_lucia_051202_2.rm
gd_michelle_051028.rm
gd_michelle_051218_1.rm
gd_michelle_051221_2.rm
gd_michelle_cassandra_060228_1.rm
gd_michelle_cassandra_060228_2.rm
gd_michelle_cassandra_060228_3.rm
gd_michelle_eva_060409_1.rm
gd_michelle_eva_060409_2.rm
gd_michelle_eva_060409_3.rm
gd_michelle_ice_060119_1.rm
gd_michelle_ice_060119_2.rm
gd_skarlet_ice_060210_1.rm
gd_skarlet_ice_060210_2.rm
gd_skarlet_ice_060210_3.rm
gd_skarlet_ice_060210_4.rm
All ScreenShot:
http://kyc.pm/VvniB3yMp/GermanDungeon.allscreen.rar
We proudly present exclusive pictures and videoclips:
Bound and gagged women
Hard whippings and canings
Forced orgasms
Tight bondage and suspension
Humiliation
Mistress Michelle
Born in 1980
Height: 170 cm
To be a dominatrix is her passion! Visit also her great websites: www.femdom-berlin.com and www.scatqueens-berlin.com
Steffi
Born in 1979
Height: 169 cm
Steffi is masochistic and likes to be bound. She enjoys moments full of relish without losing her bold character. She knows also about her daminant site, but likes more to suffer.
Bridget
Born in1979
Height: 179 cm
Bridget comes from Portland (Oregon, USA) to German-Dungeon. She has a lot of experience in BSDM and knows what is good for her. >> Visit her Website.
Cassandra
Born in 1980
Height: 170 cm
She did not have any experience until now, but she is quite curious and loves to experiment. We were surprised about her corporal possibilities each session we did with her.
Eva
Born in 1973
Height: 167 cm
Eva is beginning with Bondage and likes to learn much more about BDSM.
Julia
Born in 1985
Height: 168 cm
She has allready experience in modeling (www.juliapower.com), but not yet in bondage and SM.
Lorelei
Born in 1981
Height: 167 cm
She is a little bit shy and reserved. But she likes to learn more about her strong feelings, which she gets thinking about Bondage and SM. We will help her to get more experience.
Lucia
Born in 1976
Height: 172 cm
She has experiences as a bizarre lady and wants to learn how to feel like a sub.
Skarlett
Born in 1974
Height: 166 cm
She discovered her SM-affinities late and likes to learn more about them. She likes to be used and enjoys the feeling of helplessness in the German-Dungeon. Ice will expand her toughness step by step and lead her into the deepness of lust.